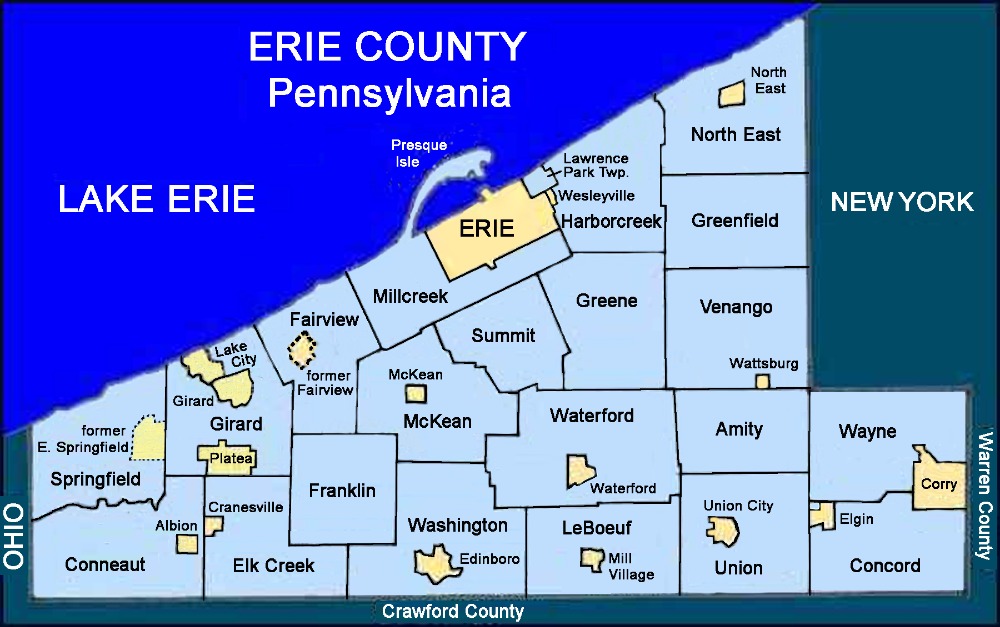 Since our inception in 1972, The Erie Society of Genealogical Research's key objectives have included the preservation of Erie County cemetery records. This includes making this information available to the public. There are several very large cemeteries within Erie County, but most are much smaller, including numerous remote rural cemeteries.

On this site's FindAGrave tab, we posted a list of cemeteries in Erie County, sorted by location, and then alphabetical order.  

Below, where available, we are providing direct links to cemetery websites.  Otherwise, we have duplicated the links and that are also found on our FindAGrave tab.  Note, associated links take you to the cemetery listing on FindAGrave where you can find more information about the individual cemeteries and interments. We believe the list for Erie County, Pennsylvania is pretty comprehensive. However, some abandoned cemeteries may not be listed. If you know of a cemetery in Erie County that is not listed, please contact us at [email protected], so that we can update our list.

Here's another option with cemetery transciptions:  https://peoplelegacy.com/cemeteries/PA/Erie_County/

Erie City

The Erie Cemetery Association- A Searchable Database of Interments
The Erie Cemetery Association manages three large cemeteries, Erie Cemetery, Laurel Hill
and Wintergreen Gorge, with a combined total of nearly 90,000 interments.  


The Erie Cemetery

, incorporated in 1850, is located in central Erie on 75 beautifully landscaped acres of land bounded on the east and west by Chestnut and Cherry Streets, and on the north and south by 26th and 19th Streets. More than 50,000 people are interred there, including Erie's first European settlers, and many military heroes of the conflicts from the Revolutionary and Civil Wars to the Korean, Vietnam, Gulf, and more recent conflicts. Erie Cemetery Association - Erie Cemetery; Erie Cemetery Association - Erie Cemetery map
Laurel Hill Cemetery,

founded in 1928, comprises 100 wooded acres on Love Road at Sterrettania Road, just south of west 38th Street in southwest Millcreek Township. Nearly 24,000 people are interred there. Erie Cemetery Association - Laurel Hill Cemetery   
The Roman Catholic Diocese of Erie


The Erie Diocesan Cemeteries manage four large cemeteries in Erie and Millcreek Township:  Trinity, Calvary, Gate of Heaven and Mary Queen of Peace. In total, there are nearly 80,000 interments. The main office is located at Calvary Cemetery. For more information, go to:

https://www.eriercd.org/cemeteries/

Erie County Memorial Gardens, aka Erie County Memorial Park, Erie Memorial Gardens;
Established in 1956, Erie County Memorial Park in Erie, Pennsylvania is located seven miles from Lake Erie. Built on an old farm homestead, the grounds are currently best known for a feature in the veteran section: the exterior of a Lockheed Martin F-94 Star Fighter Jet on loan from the USAF Museum, which was used by the U.S. military during the Korean conflict and is highly visible from Interstate 90.  There are more than 5,800 interments.
Veterans Memorial Cemetery (1,340) (aka Soldiers and Sailors)
Veterans Memorial Cemetery is located on the grounds of the Pennsylvania Soldiers' and Sailors' Home in Erie located at 560 East 3rd St. Founded in 1886, it is the oldest of six Pennsylvania veterans homes.  The cemetery sits on four acres and serves as the final resting place for 1,300 veterans who served our nation dating to the Civil War era.  
 


Others with Erie mailing addresses (includes Find a Grave links):





City of Corry

https://www.corrypa.org/
Corry is located at the junction of three counties- Erie, Warren and Crawford.  Corry is the second-largest city in Erie County.



Greater Erie County Townships and Boroughs




- other than the City of Erie mailing addresses, and the City of Corry.




Amity Township


Amity Township is in southeastern Erie County and is adjacent to

 

Waterford Township

.





Concord Township, including the Borough of Elgin 
Concord Township occupies the southeastern corner of Erie County. It is bordered to the east by Warren County and to the south by Crawford County. Elgin is an independent borough. 



Conneaut Township, including the Borough of Albion
Conneaut Township occupies the southwest corner of Erie County. It is bordered to the south by Crawford County and to the west by Ashtabula County in Ohio. The township surrounds the borough of Albion, a separate municipality.



Elk Creek Township, including the Borough of Cranesville. 
Elk Creek Township is in southern Erie County and is bordered to the south by Crawford County. The borough of Cranesville, a separate municipality, is on the western edge of the township.  


Edinboro, see Washington Township 


Fairview Township, including the Borough of Fairview https://www.fairviewtownship.com/
Fairview Township was settled in 1797. Fairview is one of the original 16 townships in Erie County. Fairview Township is bounded to the North by Lake Erie, to the West by Girard Township, to the South by Franklin Township, to the Southeast by McKean Township and to the Northeast by Millcreek Township.


Girard Township, including the Boroughs of Girard, Lake City and Plateau. .
- Bordered by Lake Erie on the north, Fairview and Franklin Townships on the east, Elk Creek and Conneaut Townships on the south, and Springfield Township on the west.



Greene Township 
Greene Township is in east-central Erie County, 10 miles (16 km) southeast of downtown Erie.

Greenfield Township https://greenfieldtownship.info/
Incorporated in 1800, rural Greenfield Township is located  in eastern Erie County and is bordered to the east by Chautauqua County, New York.  

Harborcreek Township https://www.harborcreek.org/
Incorporated in 1803, Harborcreek is located in the northwest corner of Erie County, and includes seven miles of frontage on Lake Erie. 



LeBoeuf Township, including the Mill Village Borough
Located South of Waterford Township, East of Washington Township and West of Union Township.
The southern border is Crawford County, Pennsylvania. 



McKean Township, including the Borough of McKean
McKean Township is in the central part of Erie County and surrounds the borough of McKean, a separate municipality. 



North East Township, including the borough of North East 
The township is in the northeastern corner of Erie County and is adjacent to the New York state line. Lake Erie borders the northern edge of the township. The township surrounds the borough of North East, a separate municipality.



Springfield Township
Springfield Township is at the western end of Erie County, bordered to the north by Lake Erie, to the east by Girard Township, to the south by Conneaut Township, and to the west by the city of Conneaut, Ohio.



Sterrettania
Sterrettania is an unincorporated community in Fairview and McKean townships, in the valley of Elk Creek, a short tributary of Lake Erie. It is located 12 miles southwest on downtown Erie. 


Summit Township - http://summittownship.com/
Summit Township, sits in north central Erie County.  It was founded in 1854, out of the western part of Greene, the eastern part of McKean and a small section from the northern part of Waterford Township.  



Union City Township, including the Borough of Union City
The township is in southeastern Erie County, bordered to the south by Crawford County. The township surrounds the borough of Union City, a separate municipality.





Venango Township, including the Borough of Wattsburg
Venango Township is on the eastern edge of Erie County, bordered to the east by Chautauqua County, New York. The borough of Wattsburg is along the southern edge of the township.



Washington Township, including the Borough of Edinboro 
Washington Township is in south-central Erie County, bordered to the south by Crawford County. The township surrounds the borough of Edinboro.



Waterford Township, including the Borough of Waterford
The township is southeast of the center of Erie County and surrounds the borough of Waterford.



Wayne Township https://waynetownshippa.org/
Located in eastern Erie County, bordered to the north by Chautauqua County, New York, and to the east by Warren County. The city of Corry and borough of Elgin are along parts of the township's southern border.


Assorted rural locations